As we drove into the southern portions of Eureka, California, on US 101 during our recent California travels, we couldn't help but struck by the flashy, Las Vegas-style sign that points the way to
Lost Coast Brewing
(sadly, we couldn't quite make it work to stop by here on our travels, but it's on the docket next time we're in the area.)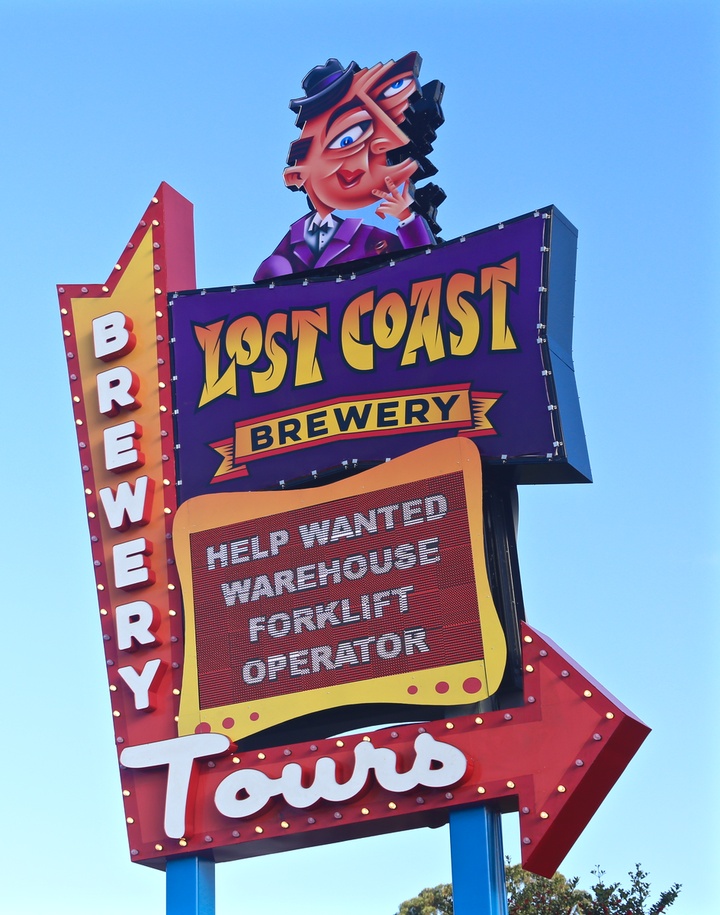 Lost Coast's new sign means no one will ever have a problem
finding their brewery (image from Lost Coast Outpost)
It struck me that this rather easily noticed sign is a bit of a paradox: historically, the so-called "Lost Coast" has been a reference to the section of along the Humboldt County shoreline which is not blanketed by either US 101 or Highway 1. Deemed too challenging to cut a highway through, this especially rugged part of the California coastline remains sparsely populated and little visited, acting as a haven for select hikers and other wilderness lovers, whale watchers, or those who are seeking a luxurious, more private view of California's picturesque coast at Shelter Cove's
Inn of the Lost Coast
.
While Humboldt isn't known necessarily as cheese country, Highway 101 holds a treasure trove of such attractions that are worth a visit because, well, how can one really resist a place like
Confusion Hill
, the so-called "Home of the Rare, Elusive
Chipalope
"? So whether its
trees you can drive through
or
drive on
, a glance at the
eternal tree house
, peering up at Paul Bunyan and the "
Trees of Mystery
", and even grabbing a quick pic of Pepperwood's "
Big Corn Monument
" (those who have visited Dublin, Ohio's "
Field of Corn
" statues beforehand may chuckle in pity), there's something to appeal to the Velveeta in every one of us.
Another popular nickname for the Humboldt County area is "The Redwood Curtain", and for any visitor to this area, it's almost mandatory that one pull off the main highway, at either the world famous "
Avenue of the Giants
" or
Redwood National and State Parks
.
Pictures often don't give you the true scope of just how massive these trees get, but these two at least give you a bit of both a comparative (note the dwarfed random humans on either side of the fallen specimen) and factual (the actual measurements of
The Founders Tree
, one of the most famous of the redwoods in this area.)
Speaking of the redwood curtain, we made one further penetration into it later on that day in the college town Arcata, home of Redwood Curtain Brewing Company. Opened in 2010, this brewer caught our collected attention spans due to the presence of sour beers on their beer menu.
The interior sported some of the typical brewery tropes such as a garage door, artwork from local artists and a proper table shuffleboard game. A bulletin board catering to Humboldt State University events and related info and a dry-erase board related some of the upcoming scheduled musical acts seemed to verify this brewery as a student destination.
Redwood Curtain does not yet bottle their brews, but will gladly fill growlers for home consumption (after our visit, they announced that 32 oz. crowlers would soon be available to the public.) Even on this slow night, business was pretty brisk in the growler-fill department.
Besides a fairly rarely seen but excellent Altbier (one that won a silver medal at GABF in 2014), our attention was focused on the sours. While these aren't the most complex or enamel-melting of sours, these Redwood Curtain brews were very pleasant to drink, and could easily act either as gateways for the newbie to sour to something more challenging, or someone who is still not convinced that they really like the style. All of them had something to recommend them, but the pineapple tart of the Je Suis Ananas and the red-wine-like Funky Fall Fever were our favorites.
Just a few miles north of Arcata, the unincorporated community of McKinleyville (whose town name was changed from Minor after the presidential assassination of the Niles, Ohio-born William McKinley) continues the Humboldt vibe quite nicely. Still known as a town "
Where Horses Have The Right Of Way
" and home of the "
World's Largest Totem Pole
" (this actually is a more thorny designation than one might imagine, based on this
roadtrip.com article
), we stopped by Six Rivers Brewing, which holds a fairly unique niche as one of the few
female-owned breweries
in the nation (current owners Meredith Maier and Talia Nachshon took over the then-failing brewery in 2003.)
As it turned out, Six Rivers reminded us a lot of Columbus'
Barley's Brewing Ale House
, a hometown institution (the brewpub began operations in 1996), with plenty of regulars and where the locals feel especially at ease. Of course, the vibe here is uniquely Humboldt: for example, the brewery's souvenirs include lumberjack plaid shirts, skateboards and so-called "Hipster" buttons that go well with your "flat bill" or "favorite pair of toms."
The place was packed on this night due to a big NFL football game, so we sat at the bar and ordered from the menu there. As it turned out, the finger food dishes turned out to be the perfect sustenance for us with the 6R Sampler (the Chili Ale Mustard dip for the pretzels and the R&R Meats Moonstone Porter Infused Bratwurst slices were especially tasty) and the Mango Habanero Wings (good mango flavor with a moderate heat burn.)
We sadly didn't have the time to sample as many beers as we would've liked at Six Rivers, but we can confirm that the tip we received from a fellow beer drinker at North Coast Brewing was spot on - their Macadamia Nut Porter is a rather creamy and delicious variant on their Moonstone Porter with the the right amount of macadamia flavor.
And perhaps it is only here in the heart of Humboldt will you find a seat-holder checklist quite like this one, as we discovered on the backside of the above-pictured beer coaster:
Redwood Curtain Brewing
550 South G St. (
Google Maps
)
Arcata, CA 95521
(707) 826-7222
Facebook
Instagram
Twitter
Untappd
Website
Six Rivers Brewery
1300 Central Avenue (
Google Maps
)
McKinleyville, CA 95519
(707) 839-7580
Facebook
Instagram
Twitter
Untappd
Website